Benidorm Printing and Design Services
We offer a wide and varied design and print services in Benidorm for your business. We specialise in short runs such as menus, flyers and business cards.
We also offer to design and print in Benidorm for the following types of media.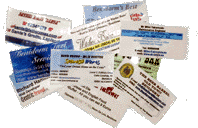 Logo Design
Business Cards
Bar Menus
Restaurant menus
Leaflets & Flyers
Internal Documents and Forms
From 'One Offs' to large runs
Laminated signs and notices
Everyone business's requirements are different and we will offer you discounts if you choose a combination of internet advertising and print media for your business in Benidorm. So please contact us with your printing requirements and we can provide you with a quote, or we can come to your business in Benidorm and discuss your printing requirements and your options.
Sound good? Go to our Contact Page to contact us and find out more.