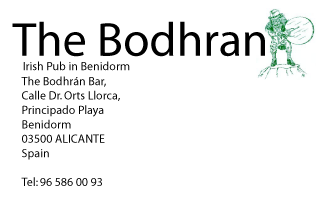 ---
Bodhrán Bar - Irish Bar in Benidorm
The Bodrán Irish bar in Benidorm has live Irish music most nights from 9.30pm to 1.30am. The bar's resident Irish band is "Quiet Crazy" featuring the well-known Irish musician, Tim Mullane and we also regularly have other artists and bands to play.
The Bodhrán Irish Bar in Benidorm has European satellite access so can show nearly all the football and other sports, including G.A.A. games (Gaelic football and hurling) on the big screen.
Irish Drinks in Benidorm
Along with the best 'point' of Guinness in Benidorm, the Bodrhán Irish Pub has a couple of other draft lagers - the local Cruzcampo, which drops to a silly price during happy hour, and Heineken. Strongbow is also available on draft and for the discerning Irish cider drinker we also stock Magners Irish Cider.
The Bodhrán Irish Bar in Benidorm is run by us, the Hourigan family, from Cork, so come down and meet us, we're open all day every day:

Don't forget - Happy Hour from 9.30pm until 11.00 pm. Or if you want to start early, then print off this token and get off to a good start with your first drink at Happy Hour prices!!
---
What's The Bodhrán?
The bodhrán, pronounced 'bow-rawn' is an Irish frame drum, used for supporting live music or sport.
---
Centrictravel.com Benidorm Guide
The Bodhrán - Main Website