Great Advertising Rates / Huge Audience
We started out at the end of 2003 by putting together this comprehensive guide to living, working and holidaying in Benidorm.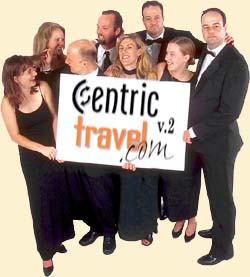 Because of our attention to detail and the fact that we have kept constantly up-to-date, this Guide to Benidorm and our Benidorm jobs Forum has been a great success. During the months of 2005 our popularity has grown from around 3,000 page hits per month to over 10,000 per month in the summer months of 2005.
Continuing in our strive to be the best we have concentrated our recent efforts on our new XTML version of the CentricTravel.com Benidorm Guide. This new version will make our site more user friendly, quicker to load and also more search engine friendly.
benefit from the success of our Benidorm Guide
"If you're serious about your business in Benidorm then this is the place to be seen by customers."
Benefit from our success by advertising with us on the Benidorm Guide or becoming a member of the guide with your own full webpage for your business.
Advertising starts at 60 Euros/ year (Only 5 Euros/ month)
You will get your logo and full description of your business with a link to your current website. This will allow you to increase the effectivness of your current website without duplicating your efforts and costs.
Amazing Quality and Value for Money - Single Page Internet Publicity
Ideal for small-medium bars, small hotels/ guesthouses, restaurants, single apartments etc.
Do not have a website yet? Then we can create a full business page for your bar, restaurant or other Benidorm related Business. If you are serious about doing business in Benidorm we can help with our highly cost effective internet advertising. Some people think that having a 'web page' is good enough. Well what do you really need from your webpage? You need it to sell your product, or promote your bar or restaurant. You need people to find and read your publicity.
That's where CentricTravel.com comes in. Our Benidorm Guide is viewed 1000's of times every week and is indexed by all the major search engines. This means that your business will not get lost in the myriad of redundant information on the net.
Your site will actually be viewed by people who really WANT to know about your business and what YOU have to offer!
The business page consists of:
Your company logo (copied or designed by us)
Full description of your business
Up to three photographs (taken by us or provided by yourselves)
Quicklink: centrictravel.com/yourcompanyname
MAP of how to find your business premises
Directions
Full contact details:

Address
Telephone numbers and Fax
Link to an e-mail address
List of nearest hotels and apartments

Review on the main CentricTravel.com Benidorm Guide. With logo, description and link to your main page.
All this for 100 Euros/ year - NO DESIGN OR SET UP FEE!
(Eqv. to around 8.40 Euros per month)
Add extra items to your webpage:
Feedback Form - (See our contact page for demonstration)
This form will help you get the information you really need from potential customers rather than to-ing and froing with e-mails. Choose from any combination of:

Tick Boxes
Drop-down Boxes
Addresses etc
(Ideal for apartment owners who need specific information)

Guestbook - Where customers can leave messages and comments
Photo Album - Show the world pictures of your wild and crazy nights!
URL - e.g. www.yourbusinessinbenidorm.com
Sound good? Go to our Contact Page to contact us and find out more.
Full Independent Web-Sites
More complex full web-sites can be created for your business, we never use website building tools, all our sites are hand coded and created to order, so you get a totally individual look for your business.
This also means that the code behind your webpage will be crisp and clear, which means quicker loading times and makes the pages easier to read and index by search engine 'robots' and 'spiders'.
To discuss your requirements and receive a quote, please contact us.