Benidorm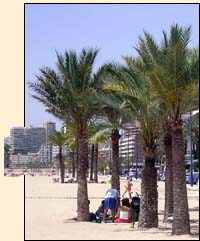 Rising up high over the Med, Benidorm is the undisputed tourist centre of the Costa Blanca. Benidorm's beaches classified among the finest in Europe - clean, broad and fully equipped with services and washed by clear, crystalline water.
Benidorm - the Resort that never sleeps!
Benidorm is a resort town that never stops, full of attractions, services and hotels for all tastes and budgets, satisfaction is the name of the game in Benidorm!
Benidorm's fine climate all year round
Benidorm is famous for is fine climate throughout the year, and offers countless opportunities for rest, relaxation, fun and entertainment, swimming, sunbathing, and certainly lots of the famous Benidorm nightlife.
Benidorm is 24 hours a day, 365 days a year
Benidorm is a 24-hour-a-day scene that includes everything imaginable, and you can also visit Benidorm's Terra Mítica theme park. Benidorm is definitely a town accustomed to giving everything it has to make visitors feel at home.
The Hotels in Benidorm can accommodate every taste and budget. There are also thousands of apartments to rent in Benidorm in all styles and locations. Whatever you're into, whether you prefer to have a quiet relaxing holiday by the beach or by the hotel pool, or if you prefer the Ibiza style nightlife with the huge clubs and big name DJs, it's all here in Benidorm.