Benidorm Themeparks
There are now 4 main theme parks in Benidorm with a brand new one just opened - Terra Natura, all accessible by Bus from the main hotels in town. The parks are:
Aqualandia (The Benidorm Waterpark)
MundoMar, Benidorm (Seaworld type park with dolphin and Sealion shows)
Terra Mitica (The large themepark with all sorts of breath-taking rides)
Terra Natura (Animals and shows in themed areas inlcuding Asia, S.America and Europe
Terra Mitica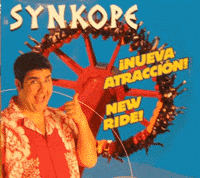 New ride open for 2005 in Terra Mitica, Benidorm
Terra Mítica takes you through five of the most ancient and legendary civilizations round the Mediterranean: Egypt, Land of Pharaohs Greece, The home of the Gods Rome, The Frontier Iberia, The Warm Shores The Islands, The Great Journey
Only a few minutes by bus from the centre of Benidorm. Here you'll find some of the most modern rollercoasters - Experience The TIZONA inverted roller coaster which reaches heights of more than 31 meters and speeds of up to 100 km/h.
Terra Natura - New for 2005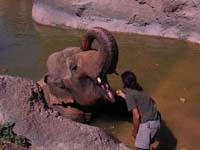 Explore the worlds of Pangea and it's amazing volcano, then onto the ancient natural lands of America, Asia and Europe. All the animals you visit on your journey are well cared for, some being rescued from careless owners. Also a portion of the money raised from the entrance fee goes to help other animals in their natural environments.
Mundomar - Benidorm Dolphon Park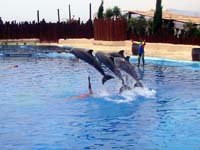 Built into the hillside next to Aqualandia, this park offers a great experience for anyone who has an interest in marine animals or exotic birds.... And let's face it who doesn't love dolphins?
The dolphin show is on twice a day and the sealions have there own show also twice each day. There are also three parrot shows up near the restaurant each day. The shows are timed so that you have plenty of time to wander round each part of the park and visit the other animals such as the bats, turtles, marmosets and many more.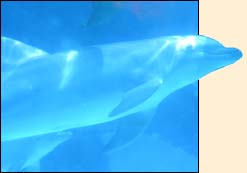 Although the park is built on a steep slope, the walk to the top is definitely worth the effort. As you reach the top there are viewing areas which offer amazing views across Benidorm and over to the surrounding mountains and countryside. (Try to spot your hotel or apartment from here)
View from top of Mundomar Dolphin park in Benidorm

Aqualandia - Benidorm Waterpark

Aqaulandia is the water park, and as you may have guessed, most of the activities include getting VERY wet. Again, this park is well suited to both young and 'young at heart'; they have everything from kids paddling pools to the Kamikaze slides.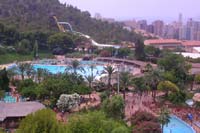 Some of the areas to visit include: Adventure Land - For the younger ones among us, don't visit here too early, or they won't want to leave. Anfiteatro Show Diving show for everyone to enjoy. Kamikaze Dare you try it? Black Hole Two at a time, for the lovers amongst you!