Bar Domino, English Bar in Benidorm Old Town
Bar Domino is a family friendly bar situated in Benidorm Old Town. Domino Bar in the Old town of Benidorm is open from 12:00 noon till 5pm and then again in the evenings from 9pm right through till 2am. Bar Domino English Bar in Benidorm Old Town has an extensive bar snack menu from breakfasts to burgers and chips which offers great value for money. Food is served in the afternoons from 12:00 till 4pm.
Takeaway sandwiches and snacks, Benidorm Old Town
To help you spend more time on the beach enjoyng yourselves whilst on holiday in Benidorm Old Town, the Domino Bar in Benidorm Old Town can provide you with sandwiches and full pack-lunches to take away to eat by your pool or by the beach. Benidorm Old Town is situated right between Benidorm's 3 main beches; Levante beach to the East, Poniente Beach to the West and down the steps behind the Old Town of Benidorm is Playa del mal Pas. Which is a small secluded beach behind the Port of Benidorm.
Drink on the Terrace at Bar Domino, Benidorm Old Town
If you decide to browse the many art, gift shops, jewelers or fashion shops of the Benidorm Old Town, don't forget that many of the shops close for siesta between around 1:30 - 5:00pm. Fortunatly Bar Domino English bar in Benidorm Old Town is open right through the afternoon until 5pm. So sit back on one of our two terraces located amongst the narrow streets of Bendiorm Old Town and watch the world go by whilst enjoying a well earned snack and a drink.
A Bar with Internet Access in Benidorm Old Town
Bar Domino English Bar in Benidorm Old Town has a a full size English pool table and dart board in our games room. We are also one of the only bars in Benidorm to have internet access. So pop in for a drink, e-mail friends, chat on webcam using MSN Messenger and book flights.
You can also print your holiday snaps directly from our photo-quality printer and share with friends before you return home from your holidays in Benidorm.
Welcome to all the regulars from Princess of Wales, Bristol
Bar Domino was opened in April 2002 by Del and Gareth from Bristol. Regulars of the Princess of Wales Pub will remember them and are always welcome to visit!

Internet Access

Pool Table

Games Room

English Beer

Terrace

Air Conditioned

Food and Snacks (daytime)

Family Friendly
How To Find Bar Domino
Domino Bar is situated just off the Walking Street in the Old Town of Benidorm.
Head up towards the Spanish tapas bars and you will see our terrace on the left hand side.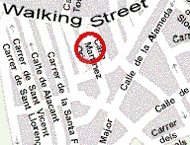 How To Contact Us
Address:
BAR DOMINO
CARRER MARTINEZ ORIOLA 15
OLD TOWN
BENIDORM

Tel/ Fax:
(0034) 965854476

E-Mail:
Del@BarDomino.com

Opening Times
We are open everyday:
12:00 - 5pm and 9pm - 2am

Sundays:
9pm - 2am

More About Benidorm